Working with Yearsley Food and Lineage Logistics
Are you interested in working with one of the world's most trusted and successful names in frozen food? We're always looking for partners who share our values and commitment to excellence to expand our national and international network.
Food trends never stand still and neither do we. Yearsley Food has always set the pace with a track record for innovation and a commitment to bringing fresh new ideas to our customers' shelves – and to their customers' tables.
That takes talent, dedication and passion – exactly the qualities we look for in our partners. So if you have an exciting product range or a fresh new food concept you think we'd like to hear about, let us know.
We can offer a direct route to the highly competitive UK food market, with full technical and back office support via a single point of contact to streamline the whole process.
If this sounds like you, contact us today
---
Private Label
Healthier product choices
In recent years, we have made considerable changes to the ingredients in our lollies to bring down sugar levels and make them healthier for our customers without compromising taste and texture.
We use no artificial colours, flavours or preservatives in any of our private label products.
Innovation and potential
Whatever food product and flavour you can imagine, we can bring it to life. The potential is practically unlimited, so speak to our product development team today and let us unlock your ideas.
Together, we can create something special!
---

Products
Water ice and ice cream Lollies
A must for those hot summer days – and not just for the kids. Alongside old favourites, such as rocket lollies and fruit splits, we have developed a new range of Freshly Squeezed Fruit Juice Lollies, high in fruit juice for the more discerning palate.
Choose from all these great products:
* Spiral Lollies (60ml – 80ml)
* Rocket Lollies (60ml)
* Mini Autos (32ml)
* Finger Lollies (From 35 to 65ml)
* Spade Lollies (50 to 73ml)
* Push-Ups (70 – 110ml)
* Assorted Fruit Splits (30ml – 75ml)
* Double Licker Lollies (40ml). An old favourite – two lollies for the price of one!
---
Mixed pack
We launched a selection of variety packs in the UK over 10 years ago. They were an instant hit then and are still a huge favourite today with a mix of everybody's favourite lollies in one convenient pack.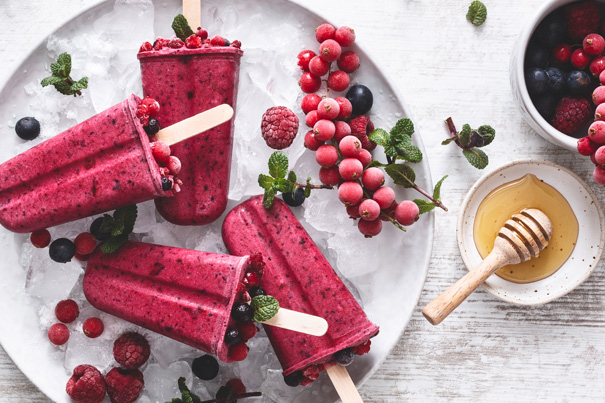 Ice cream lollies
Double the delight with refreshing fruit ice flavours and luxurious ice cream inners. Our ice cream lolly choices include:
* Fruit Splits (Ice Cream or Yoghurt with a Water Ice Shell) 35ml – 75ml
* Dry Coatings (Nuts, biscuit pieces, coloured sugar, popping candy.)
* Injected solid chocolate flavoured, salted caramel or fruity sauce cores
* Swirled Ice cream – 3 flavours of milk ice swirled into one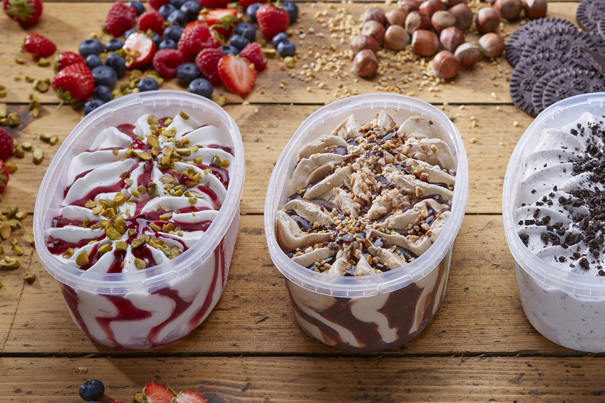 Ice cream tubs
A £25m investment in new production facilities at our partner site in Germany means we're looking forward to healthy growth in the ice cream tubs category.
Choose from our indulgent 500ml and 1-litre tubs of rich and creamy ice-cream (two flavours side by side) with two sauces, two types of inclusions (up to a diameter of 14mm) and a soft core of sauce, all topped off with a solid chocolate topping. Delicious!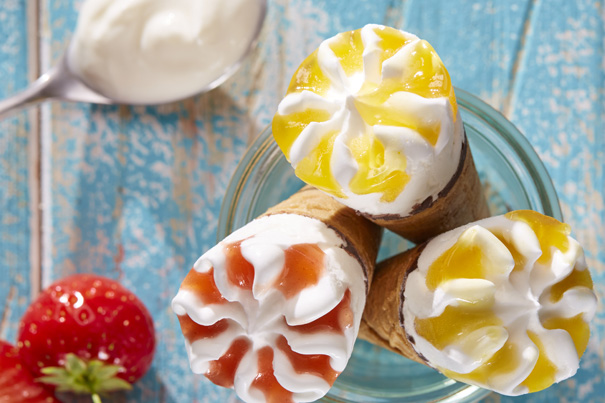 Cones
We make cones for everyone; from 28ml mini bite-sized up to our monstrous 250ml cones and every size in-between. We can even put a crumbly stick of chocolate in them too – just like the ones from the ice cream van!
We also have 'Free From' lines for those with dairy or gluten intolerance.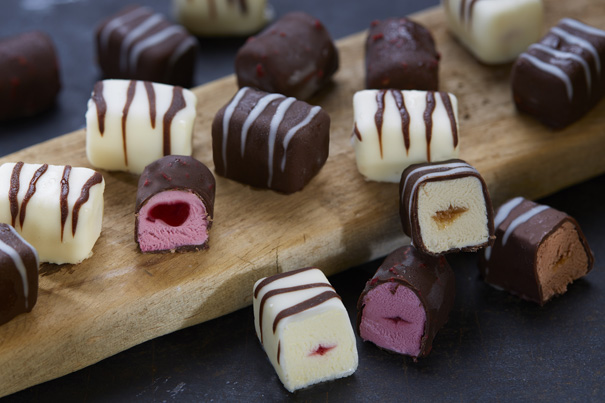 Mini ice cream chocolates
Chocolate coated, injected with sauce and finished with white chocolate drizzle decoration, our 10ml bite-sized ice cream chocolates are perfect for sharing and snacking, especially at Christmas.
Flavours include mint chocolate, strawberry white chocolate, raspberry white chocolate, caramel milk chocolate, and fruits of the forest with freeze-dried fruit coating.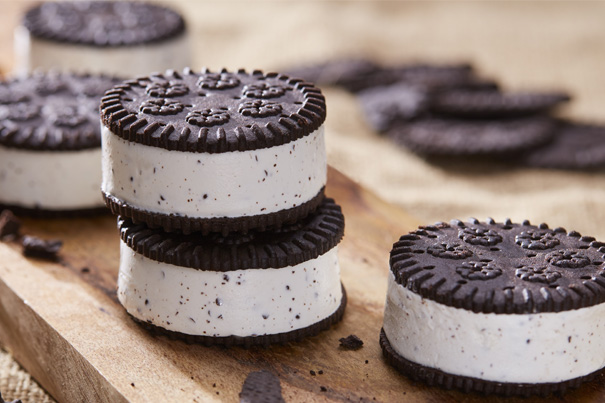 Ice cream sandwiches
Whether you want square, rectangle or circle cookie sandwiches, we can create them for you in a range of sizes and flavours. Then, you can have them dipped in your choice of ingredients, including chocolate, yoghurt, popping candy, freeze-dried fruit and more.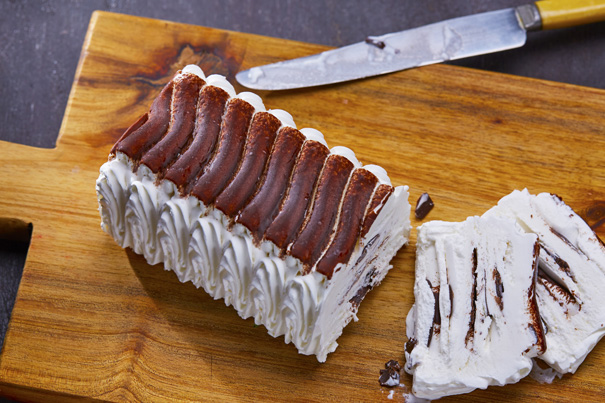 Extruded ice cream
We can produce a range of extruded ice cream. From ice cream on a stick coated in chocolate – the adult ice cream of choice, similar to Wall's Magnums – to more novelty ice cream shapes like our distinctive pineapple ice cream with strawberry & lemon and lemon & lime fruit ice.
Free from
A range of choux pastry profiteroles and eclairs produced without wheat or dairy.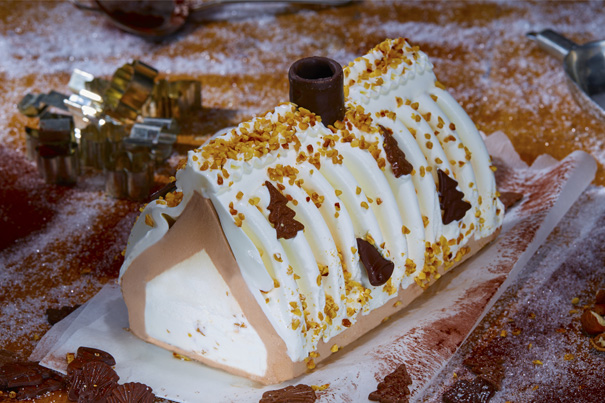 Speciality and seasonal centrepieces
What every celebration needs is a mouth-watering centrepiece to suit the occasion.
From Santa grottos and spherical eggs to domes and cakes with as many layers as you can handle. We can provide speciality centrepieces for Christmas, Easter, Halloween and birthdays.
All made even more special with a choice of toppings including sugar decorations, metallic touches, edible spray and real chocolate pieces.
Contact Us
Whether you are looking to place an order or discuss a specific product requirement, we can help.
We are Yearsley Food, let's talk.
Get Started